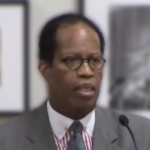 Greggory Keith Spence has had an extensive career as an educator and academic, a lawyer, and a government relations professional. Most recently he has been a consultant and University Professor at The New School in New York City, where he taught courses in Education Practice and the Law, Environmental Practice and the Law, American Political History, and Intellectual Property for Artists. Over the years, he has taught at Boston University as Associate Dean and Assistant Professor of Political Science, Adjunct Professor of Legal Studies at Brandeis University, and Senior Lecturer at the Milano School of Management and Urban Affairs of The New School.
For more than a decade, he was Vice President and General Counsel of The New School. He was also Vice President and General Counsel of Brandeis University and University Counsel of Harvard University. He has also taught courses in legal writing, food and drug law, and college and university law at Boston College, Boston University, the Marshall Wythe School of the College of William & Mary, Howard University, and Benjamin Cardozo School of Law.
Earlier in his career, Mr. Spence was Assistant Corporate Counsel and General Counsel of the Health and Hospitals Department of the City of Boston. In addition, he was Associate General Counsel of the U.S. Department of Health and Human Services, Food and Drug Division. He has drafted regulations concerning foods and cosmetics and led civil, criminal, and administrative proceedings involving pharmaceuticals, food additives, and medical and radiological health products and labeling. He has Capitol Hill experience as Counsel to the Senate Subcommittee on Health and Scientific Research.
With experience as Corporate Counsel for Research and Business Development and Intellectual Property of a Fortune 100 food company and Senior Vice President, General Counsel, and Corporate Secretary of a private corporate online education company, Mr. Spence married his years of governmental relations experience for nonprofit and public institutions with an appreciation of private-sector interests.
Mr. Spence graduated with an A.B. degree, magna cum laude and Phi Beta Kappa, in History with minors in philosophy and science from Fisk University, where he was an exchange student to Dartmouth College. He received General University Honors and was a lettered member of the university varsity baseball team, Vice President of the student government and a Participant in the Harvard-Yale-Columbia Intensive Summers Study Program at Yale University. Mr. Spence received his Juris Doctorate from Harvard Law School.
[/vc_row]